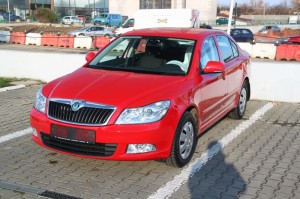 Finally, as mentioned in my previous post, "it" has arrived. "It" being our new Skoda Octavia 2 Facelift. Still red, as our current car, a very good Dacia Logan. I won't start comparing them – it's like comparing a 286 against a Pentium Core 2 Duo. "It" feels good – and NEW. 🙂 I spent some time in it after we received it, on Thursday evening, to get a bit used to the new console – and the new audio system, and boy does it sound GREAT!.
At a first glance, the driving position is slightly lower than in the Logan. I'll have to see how can I adapt to it after being used to the high position in the Logan. But it seems pretty much ok, at least in a stationary car. I can't drive it yet since I chose to get the permanent license plates, so I'll have to further wait a few days. I only drove it in the dealer's parking lot – and I must admit that the DSG gearbox is an absolute joy. We will have to get used to each other, of course, but I loved it from the moment I first drove a car that had one, so I guess it won't be something very hard or annoying.
The dashboard uses a nice white backlight for night time, and it also has the very useful feature of adjustable brightness – which the designers at Dacia didn't put in the Logan 7 years ago when they designed it, and this is really bad (especially if you drive the car outside town during daylight). The central console uses a dim green backlight for all controls and white for displays – actually it's only one display for the audio system.
Today I tried to adjust some settings for the alarm system and I also installed the floor mats. It looks like I'll have to read the manual more carefully (although I did it 5 times…) and try again to program it. I'd definitely like to remove the "quirk" it generates upon system arming / disarming – it is very annoying for your neighbours if you leave home at 6 AM or you get home al 12 or 1 AM. I have been unpleasantly surprised by the winter tires they fit on my car – I had ordered Continental WinterContact TS830s and they put Mabor WinterJet2; I can assume they did not have any TS830s in stock. Oh well, I'll have to see how these behave  – and if I don't like them I can make a change after this winter. Other than that, it seems to be ok.
Pics (or it didn't happen…) later.