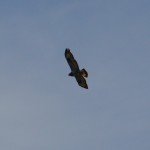 So, finally, "I can has good weather". After being kept inside by either bad weather (what a lousy winter…) or various duties and tasks, I decided to use wisely the first day off with decent weather in this year. So, on Sunday April 4th – the very first Easter day –  we headed to the excellent airfield near Luica, where our friend Mihai managed to fix the access road only the day before.
Since I didn't want to restrain either Maxie or both Maxie and milady at home, we went over there all together. Preparing the transport was a little tricky because the Extra does not fit upright behind any front seat, and since Logan has no folding backseat… I had to put the Extra on the passenger seat, thus restricting the available space in the rear. No problem for Maxie, though – she found a very nice space right under the plane, and she slept almost all along the way. Especially on the way back…
Of course, given the presence of the impetuous Guardian of the area (a splendid Mioritic sheepherder) we had to ask for "permission" but we found out that Big is not aggressive. "Not aggressive" is a gross underestimate – the only thing that made him a bit sad was that he was tied up and Maxie would only go to him from time to time. It couldn't have been otherwise, because among all those planes and noise, if he went loose then little chance to make him stay otherwise. (Besides, maybe he doesn't like every pilot who shows up there, so it's a safer bet to keep him tied up.) Never mind – they both (Big and Maxie) found a new friend to play with.
So, we're there, the dogs have been introduced and the day looks great ahead. What could go wrong? Simply put: nothing. Just to play on the safe side, I also brought the glider with me. Good idea – aside from letting my friend Porumbeu take it to the heights (where he couldn't resist dogfighting a hawk that happened to be hunting in the area (an area rife in small rodents, especially mice). Ok, the hawk was not the only predator mice had to beware – we understood that Maxie also did a nice job catching at least one, if not more. Good hunter, Maxie! 🙂
So, I went for the first flight with Extra for this year. After assembling it, checking all links and filling it up I ran the first full throttle check and tune. After that, refill and take off. A strange behavior: after several – 10-15 – seconds of low throttle, pushing it forward would almost turn the engine off. The throttle movement had to be very slow and gentle, or I risked to shut the engine off in mid air…
Which, eventually, happened on the second flight. Luckily I was high enough, and I brought the plane down nicely. It's an aerobatic, so expect a rather steep gliding path. Despite a tumble on touchdown, the airframe was completely intact – a rather surprising end, though I'm not complaining about it 🙂 I leaned the low speed mixture a little, then I set off for the glider.
The glider is the model I used for learning to fly model aircraft, and it's wonderful for leisure flying. I live in the plains, therefore not many chances to experience slope soaring – but what a joy catching a thermal is! So I take off, after hald an hour of troubleshooting the receiver binding to the transmitter, only to find out that there's a problem with the link from the main receiver to the satellite. Grrrr! Ok, a satellite cable (actually three…) on the way, due in 4 days, and 16 pounds less in my pocket. Anyway… let's fly. After messing around with the glider for some 10 minutes, I handled it to Porumbeu, who happily flew it and landed safely 15 minutes later but, like I said, not before dogfighting a brave hawk.
For the rest of the day things went on and on, pretty much for the same manner. Mihai flew his 3,3 m Piper Cub, Porumbeu flew my glider (Arcus) again, I flew the Extra (and dead stick-ed it) again, and Radu flew the trainer and drove his buggy around. The happiest of us all was Maxie, who eventually slept a night and a day and one more night after this trip. Overall, a nice way to start the outdoor flying this year!