I like taking pictures. It's already stated in my profile, if I remember correctly. And so far I managed to take quite a bunch (over 20k) with my old Canon EOS 300D (Digital Rebel) – and boy, are they some nice memories! Still, the camera's early technology was annoying me by the day, and despite the fact that I bought an extra battery (the original one, now around 6 years old, would give up rather soon especially when I would make heavy use of the Tamron 80-210 mm "gun", let alone several flash fires) it was still annoying me when it came to downloading the pictures to the computer over the snail USB1.1 link. I had to replace the battery a couple of times in order to "persuade" it to download all 880 photos shot by Milady at the maiden flight of my new Extra 300S.
Now, my old Tamron, bought in 2001 during a trip to the Netherlands (just a mere months before the lift of the visa requirement for Romanian citizens traveling to the Schengen area) is a decent lens for its price tag, and I bought it together with my first SLR camera, a Canon EOS 3000 (film camera) since I always dreamed about such a camera paired with some reasonable telephoto lens. Until yesterday this lens did its job, although it's possible that it got some dust specks within (they may be on the sensor as well, but I dare not get my hands on the sensor neither have I the knowledge and tools required to disassemble the "gun") and the shots against the sky tend to emphasize them. The main disadvantage of having two sets of camera lens is that you have to change them every now and then, and this 1. takes time, sometimes A LOT of time (compared to what you have to shoot the pictures); and 2. it allows the dust to get in the camera – and what's worse, on the sensor. Now, the film cameras don't suffer from this since the film is covered by the shutter at all times AND the film does not rest in the same position (it advances every frame). So, despite the reasonable results obtained with the existing set, I was looking for something easier to handle. And given that we can no longer change the car this year… we decided to go for a  new camera.
We headed for F64 Studio, one of the best suppliers of photographic equipment in Bucharest. The main issue was that we had to decide between Canon's newest member of the EOS low-end (xxxD) range, namely the EOS 500D,  and its Nikon counterpart the D90. Their similar specifications announced a tough decision, so I was preparing for a long and tough round of comparison. But once we got there, we finished the job in less than 5 minutes, including shooting some frames with both cameras. Why that fast?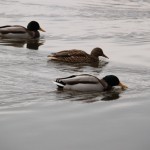 Well, aside from the rather similar features of both devices, Canon has a major advantage that brought it a hands-down success. It's about the weight. The 500D is 140 g less than D90, and boy is this MUCH. I used the D90 a couple of weeks ago when I went to Luica for a day of flying, and I shot some 100 frames (maybe more) trying to catch a formation of 3 (a Piper J-3, a Rascal 110 and a 2,2 m wingspan Yak-54). Now, trying to fly an aerobatic plane in formation with  two slow birds is a stressful experience, and the show was guaranteed. 😀 The point is that keeping the D90 with a Nikon AF-S 55-200 mm (620 g camera + 335 g lens + some 20-30 g the battery => 980 g, almost 1 kg!) at the eye level, AND tracking 3 flying planes all over the place, elevation from 20 to 90 degrees, for FIVE minutes is absolutely murder. I almost dropped the camera when they landed, luckily I put the neckstrap on before the shooting. Holding the bare camera bodies one in each hand, the difference was more than obvious. And since Milady uses the camera quite a lot of time – especially when she joins me for a flight day, but not only – the weight was a decisive factor. The other one was a very nice and convenient package of the body with a Canon 18-200 mm IS lens, meaning that I no longer have to switch the lens when I need to acquire a wide view  then I want to focus on a small detail from the entire landscape. Less wasted time, less dust entering the camera and more time for composing/taking the pictures.
The discount not only brought us a decent saving but it allowed us to get some nice accessories, some of them being a "must have" for any photographer looking for getting the best out of his / her camera. These included a set of Hoya filters (UV, warm and circular polarizer), a hard glass screen for the large rear display (to protect it from scratches, since the existing one is rather sensitive to these) and a hand grip with an extra battery for double power when you go out for a shooting session, this including an adapter for 6 AA (R6) batteries, allowing you a theoretical 2700 mAh at 7,2 V from the 1850 mAh at 7,4 V provided by the original 1050 mAh and the extra 800 mAh Li-po batteries.
So we headed home with a new "toy" for which we need at least a couple of weeks to study. I found out that the camera is much smarter than I am, so now I have to catch up with it as soon as possible. As soon as we got  home we found that the camera with the grip does NOT fit in the existing camera case, AND we have no place to store the old camera, so we headed back to F64 in order to negociate the sell of the old 300D plus all accesories (the Tamron "gun" included). While we did not go for their SH service, we left with a new case able to also house our little HDD camera.
Yesterday we spent the rest of the evening shooting some indoor frames (including the old 300D which I published for sale on RHC) and today we headed out to play with the filters. While the effect of these is visible, it's clear that it will take a lot of time to get used to them, let alone make the MOST use out of the newly available features. Still, the downright FAST download speed of the images from the camera (100 photos in around 30 s, each photo around 6,3 MB in size) makes practice with this instrument a real joy. I will get out later this week in order to catch the Christmas lights in Bucharest. We saw the last year, and we did not have the camera so we used our mobile phones, so… no good images. Hopefully this year will bring us something more decent – at least we have the technical means…