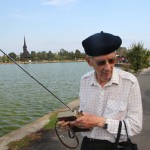 21 years ago, during a nice summer day in Constanta, my uncle let me use a radio remote control transmitter for the first time in my life. It was controlling a sail boat, a nice device built entirely by him. The only purchased items were the accumulators and the control servos. Other than that, the design, the  build, the setup, the radio part – transmitter and receiver – were ALL built by my beloved uncle.
A couple of weeks ago I decided to take my wife to the seaside, since she was longing for a bare foot walk on the beach. So we headed to the seaside around 06:00 from our place in Bucharest, the entire back seat of the car filled with our dog Maxie. We parsed the A2 motorway to the seaside in an hour and something, and after 2 1/2 hours we were on the absolutely empty beach, the autumn breeze gently blowing from the sea, and Maxie very happy to have plenty of room to run. The only nasty part was that there was a lot of water around; still plenty of room to run – and plenty of birds to chase! But this part of the trip can be read on our travel blog.
After spending some time on the beach walking and searching for seashells – unfortunately for Milady not as long as she wished, but then we did not leave prepared and I had nothing to read, but we found some beautiful and interesting intact shells – we headed for the city of Constanta, to my aunt and uncle. We were aiming for a surprise visit – however, the surprise was total since they were not at home by the time we arrived. No worries, there's nothing a phone can't fix. And so we took my uncle from the shopping "gallery" where they were (looking for a sweater for him, IIRC) and made him rush back home to meet us. And spend some wonderful time together.
Knowing he doesn't have too often the chance to go out and play with his beloved RC tools, I somehow managed to "instigate" him to go out with the sail boat. I definitely wanted to carry the entire equipment – the boat alone weighs around 4,5 kg / 10 lbs – but this guy is more stubborn than even me, if that's possible. So Loredana took the RC, my uncle took the sail boat and I took Maxie on the leash – it was rude to go to a park and leave her in the car, even if it wasn't a hot day. And off we went to the "RC harbor", a pontoon closed for the general public – but hey, my uncle is not "general public" since he uses that pontoon for almost 30 years, if not more.
So, 21 years after using a radio control unit for the first time in my life, and after starting my own RC practice, I got the chance to play once again with the RC device I simply find mostly dear, together with one of the people I love most. Nevertheless, since Milady is very fond of surface RC "toys" – be it hard or water surfaces – we did not miss the chance to let her sail for a while. And sailing she did – she even managed to place the sails in a "scissors" shape, to maximize the effect of the wind blowing from behind. And boy, did she catch some speed! The only disappointed one in our group was Maxie, who was quite bored ("Ok, you brought me here, but can we possibly do something interesting?") but in the end she felt much better together with us than sitting alone in the car.
I hope that this cold and rainy weather will improve and that we will be able to take another trip to the seaside really soon, to go spend some more time with my uncle – and, preferably, to go out with my Acromaster as well since he did not do much aerobatic flying and I'm sure he will enjoy it when he'll see it.