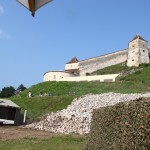 Yesterday we decided to take a trip to the medieval fortress in Rasnov, Brasov county. The compelling reason for me was the presence of Tritonic Publishing House and of its general manager, Bogdan Hrib, who decided to organize an airsoft shooting range in the area. A must see, for me…
Tritonic is the organizer of the book section of the Historical Film Festival in Rasnov. The movies are displayed mostly in the city movie hall, save the last two each day. These last two are projected on a large inflatable screen in front of – and, maybe later, in place of – the scene. This scene is where the children participating at the first edition of the international children canto contest "Liga Campionilor" ("Champions' League") perform on. This contest is taking place in the same area, the fortress main yard, as I write this post, although it is not a part of the film festival.
Despite the very hot weather, the number of visitors of the fortress was pretty high. Actually the weather was not only hot, but very humid as well – the night before it rained heavily and all publishing houses' tents were literally flooded, damaging some books that had to be literally thrown away. The happiest man there was the gentleman from the Military Publishing House, who had been careful enough to protect all the books with plastic foil thus minimizing the damage. Well, he was used with mountain weather, so this was no big surprise for him.
Like I said before, there was also a book section as part of the Film Festival. You can read the entire program of the Festival – however, it is in Romanian only. The publishing houses that attended this event – Tritonic, Crime Scene, Flacara, Rao, Military P.H., Jurnalul National and TVR Media (DVDs) – came with lots of related titles. Surprisingly, there seemed to be more customers on Friday, when they had barely arrived and were unpacking and setting up the tents and stands, than on Saturday when most tourists poured by. Oh well, maybe they'll get more books today, or during the next week, since the book section will last until Sunday August 15th – just like the Film Festival does. I, for one, am going to buy some titles on Monday as I'll get back there to help Bogdan arrange the airsoft shooting range. He planned to do it from the beginning, but unfortunately he was not aware of the children canto contest and he didn't want the kids to see the shooting range since it would have been VERY attractive to them yet airsoft is a pretty dangerous sport and it's not suitable for individuals below 18 years of age.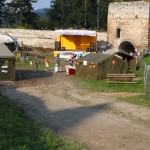 We got there around 09:15 and we left around 22:00. After sunset it got a lot cooler – towards 22-24 deg. centigrade – but we had the pleasure and privilege to spend some time among a number of great writers, as you can see in some of the images below: Bogdan Hrib, George Arion (yes, the novelist!), Alexandru Arion, Monica Ramirez, Claudiu Simion and his lovely wife Janina Lorelei. They helped us forget the unfriendly weather and we had a wonderful time there. And since the book festival was part of a larger event with a historical theme, the setup could not be different. Military tents, minefields ("Teren Minat"), ammo depots ("Depozit de munitie"), military structures ( "Detasamente") and a shooting range – yet unfinished as I write this – all contribute to an atmosphere from another time, which seems pretty successful as I could hear from a visitor, a young girl, who commented to her friend[s]: "It's so cool; I feel like in that series movie… what was its name… yeah, M.A.S.H. – you know?" I forgot to tell Bogdan about this one, but I feel that even if ONLY ONE visitor had this feeling then the setup has reached its intended purpose. And I feel that it was not only one visitor to feel this way.
Of course, Maxie came along with us and was a tourist attraction all by herself – hmmm, maybe next time we'll think of a way to monetize her attractiveness. Or maybe not…
Thank you, Bogdan, for a great experience! And good luck to all attending publishers – I wish you many good sales and no more rainy weather, either during day or night!